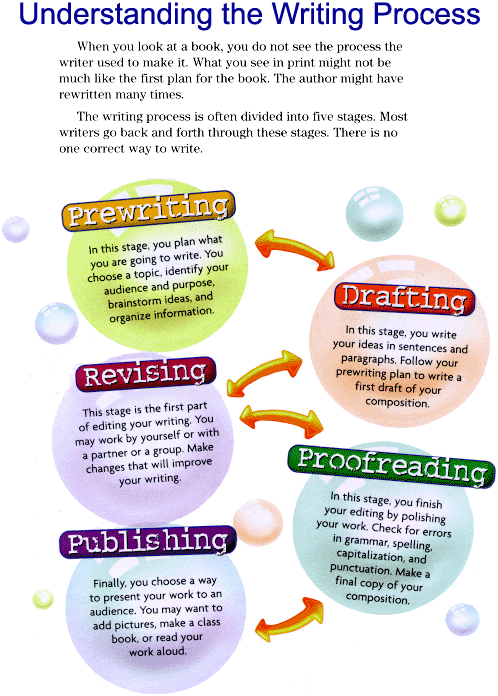 See below for the text in this image/diagram.
Understanding the Writing Process
When you look at a book, you do not see the process the writer used to make it. What you see in print might not be much like the first plan for the book. The author might have rewritten many times.
The writing process is often divided into five stages. Most writers go back and forth through these stages. There is no one correct way to write.
[Editor's Note: To show the iterative nature of this process, the diagram shows double-headed arrows drawn between the following sets of sub-headings: Prewriting and Drafting. Revising and Drafting. Revising and Proofreading. Publishing and Proofreading.]
Prewriting
In this stage, you plan what you are going to write. You choose a topic, identify your audience and purpose, brainstorm ideas, and organize information.
Drafting
In this stage, you write your ideas in sentences and paragraphs. Follow your prewriting plan to write a first draft of your composition.
Revising
This is the first part of editing and writing. You may work by yourself or with a partner or a group. Make changes that will improve your writing.
Proofreading
In this stage, you finish your editing by polishing your work. Check for errors in grammar, spelling, capitalization, and punctuation. Make a final copy of your composition.
Publishing
Finally, you choose a way to present your work to an audience. You may want to add pictures, make a class book, or read your work aloud.