An elaborate map of the British Empire in 1886, marked in the traditional colour for imperial British dominions on maps
Cane Fields
Postcolonial studies is an interdisciplinary field that examines the global impact of European colonialism, from its beginnings in the fifteenth century to the present. This is achieved through interrogating what made colonialism so powerful, recovering excluded or marginalized voices, and by theorizing the complexities of colonial, neocolonial, and postcolonial identity; national belonging; and globalization.
Postcolonial literary criticism focuses specifically on literatures produced by subjects in the context of colonial domination, most notably in Africa, Asia, and the Caribbean. It seeks to explore the complex interactions and antagonisms between native, indigenous, "precolonial" cultures and the imperial cultures imposed on them
At the heart of postcolonial studies is the nature of representation. More specifically, it interrogates the ways in which Western representations of third world countries serve the political interests of their makers. One avenue of this interrogation is through education. Postcolonial theorists aim to show how institutions of Western education, including the study of English Literature and the English language, function in the spread of imperialism, by inculcating Western Eurocentric values. Thus, the colonial literary education supports a cultural colonization that helps Western colonizers rule by consent, long after slavery's chains have been broken.
Adapted from The Norton Anthology of Theory and Criticism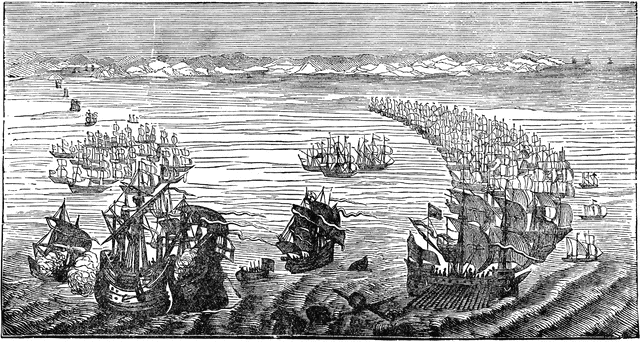 Black and White illustration of the Spanish Armada. Source: James Hunter Young People's History of the World (Chicago, IL: The International Publishing Company, 1897).
Black and white illustration of enslaved Africans being forced to dance onboard a slave ship. Digital copy from the Library of Congress Web site, original source: "La France Maritime" by Amédée Gréhan (ed.), Paris 1837
Black and white illustration of enslaved Africans cutting sugar cane on a plantation. Digitized copy from the http://www.slaveryimages.org/ Web site, a project of the University of Virginia Library. Original source from Edmund Ollier, Cassell's History of the United States (London, 1874-77), Vol. 2, p. 493.